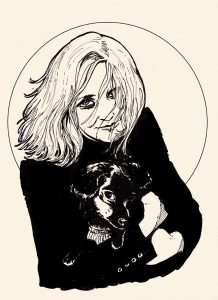 Drawing by Carlos Ezquerra
Heike Schneider-Matzigkeit is a photographer and graphic designer working in London and Berlin. Her work has been published prolifically and internationally in major books and publications such as NME, The Guardian, The Independent, Neo2, The Fortean Times amongst others. Her editorial shoots have focused on many notable artists such as Suede, Primal Scream, Aimee Mann, Gary Numan, Ladytron, Sonic Youth, Melissa auf der Maur, Echo & The Bunnymen, Candy Clark, Richard O'Brien, The Kills and her photo of Amy Winehouse appeared on the cover of NME. Additionally, her live photography has resulted in iconic shots of the likes of Smashing Pumpkins, Franz Ferdinand, The Libertines, Manic Street Preachers, Jane's Addiction, PJ Harvey, R.E.M., The Cramps, Interpol and Iggy Pop.
Clients include The Independent on Sunday, The Guardian, PETA, Virgin, NME.
Academically, Heike Schneider-Matzigkeit studied at London College of Printing and the University of Westminster (BA Hons 'Film, Video & Photographic Arts') as well as Royal Melbourne Institute of Technology, Australia. In the autumn of 2019, she graduated from the Manchester School of Art receiving a distinction on the Masters Degree (MA) 'Graphic Design & Art Direction'.
Heike Schneider-Matzigkeit currently spends most of her time in Berlin, having previously lived in London for fifteen years. Whilst she co-founded and co-edits culture and art magazine 'Splendid Berlin', her first solo photography book 'Berlin Reflections – Antlitz Berlin' was exhibited at both the Frankfurt and Leipzig book fairs in 2016 and 2017 respectively. Current creative projects include a collection of letterpress-designed books as well as new portraiture series 'Dogs and their Humans' of which a selection of photographs have recently been featured on Italian Photo Vogue.